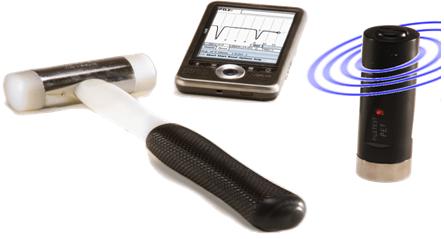 Categories:
Main Products
product number: BS-5005
product name: Pile Echo Tester
type: PET
producing area: U.k.

Piletest's Pile Echo Tester (PET) is a user-friendly, highly flexible solution for testing a large number of deep foundations quickly and accurately.
Main Advantages
Ease of use: PET's user-friendly software makes it possible to master the system in less than a day. No additional expensive training is required
Excellent signal quality: PET's low noise level enables the system to handle extremely long piles
Computer independence: Unlike other system based on an embedded computer (which soon becomes obsolete) PET connects to any existing or future PocketPC.
Labor saving: PET software includes a number of labor-saving features such as advanced project organization; software-suggested wave velocity; Smart Trigger™ to reject anomalous blows; one-touch controls of scale, amplification, and filtering; plus many more
Robustness: Specially designed to test piles, shafts and caissons in construction environments. The PET sensor is made of bullet-proof unbreakable Lexan. It is waterproof and comes with three years warranty.
The PET package includes:
• A digital transducer
• A nylon hammer, spare tips, special putty
• Testing, analysis and reporting software
• Interpretation assistance package
• 10 years free software upgrades